KEY TELECOM  513-290-4472
Key Telecom sells phone systems with complete installation and training. We offer on premise and hosted phone systems and we can help you choose the best phone system for your business needs. We also install computer and phone cabling as well as any add-ons like overhead paging systems and more. We have been serving Cincinnati, Dayton and Northern KY since 1998. with quality products, great customer service and pricing..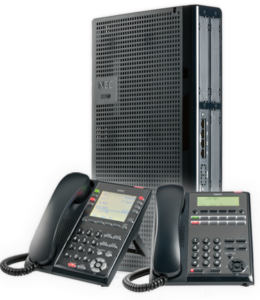 NEC SL2100 on premise phone system
Much of the SL2100's advanced functionality is already built into the system and that reduces the need for extra hardware now and in the future, delivering a highly functional telephone system at an entry-level price. The SL2100 provides both VoiP and traditional phone system operation. Every type of phone line can be connected to the SL2100 and comes with a 5 year warranty.
Easy to use.  Intuitive prompting on the phones LCD display helps guide your employees through the phone and voice mail features making them more productive and increasing your businesses level of customer service
Your business can't afford downtime
The SL2100 is a reliable 'always on' solution.
Scalable from 1 to 128 users.
Flexible and customizable to fit any business needs,
whether you need basic or full features. 
User friendly interface – little to no staff training required.

Phone system features include:
​Intuitive prompting
Call forwarding, on and off premise
Conferencing, up to 8 parties
Auto Attendant Day/Night 
Voice mail messages sent to your email
Illuminated dial pad & display screen
Call monitoring & call recording
Internal page groups through phones
External page through overhead speakers
Cell phone as an extension (requires PRI)
Professional message on hold recording
---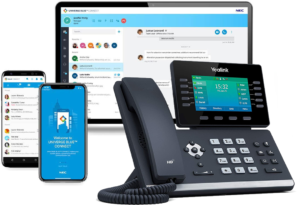 CLOUD-BASED UNIFIED COMMUNICATIONS
Businesses need communication systems that are reliable, cost-effective and scalable. NEC's Univerge Blue Connect provides and all-in-one, fully integrated, cloud based unified communications system that gives employees the flexibility to effectively communicate no matter where they are.You can keep your current local phone numbers . Unlimited in and outbound calling.  Each user will also receive their own phone number for direct calls to their extension.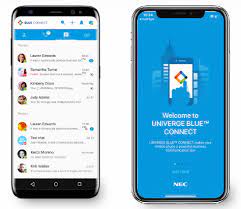 Never miss important calls
Extend your business phone number and extension to your mobile
phone, so you can place and receive calls on-the-go or even transfer
calls from your desktop phone to your mobile device-seamlessly,
without interruption. Have calls ring both your desk phone and your mobile phone.
Communication your way
Have the flexibility to use your desktop application to place and receive
calls in two ways, either as a call controller for your associated desk
phone or as a softphone from your PC or Mac